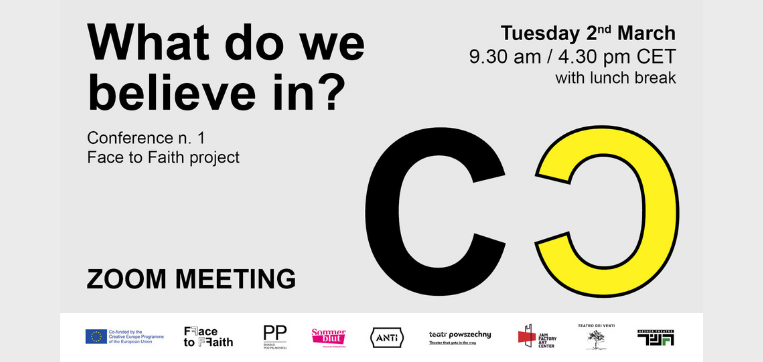 Martedì 2 marzo dalle ore 9.30 alle 16.30 si terrà la conferenza "What do we believe in?" online su piattaforma Zoom e in diretta Facebook sulla pagina Face to Faith. Nell'ambito di Face to Faith progetto di cooperazione internazionale che mira a comprendere i diversi significati della fede nella società contemporanea. 7 partner – teatri e festival di Repubblica Ceca, Finlandia, Germania, Italia, Israele, Polonia e Ucraina – studieranno la "fede" attraverso conferenze e produzioni di arti performative.
Nel corso della giornata esploreremo e metteremo in discussione il pensiero sulla Fede delle comunità che attraversano la vita dei teatri di tutta Europa e delle realtà artistiche coinvolte nel progetto. Un momento di ascolto e condivisione attiva per creare nuove idee per il futuro.
.:: COME PARTECIPARE ::.
Registrati scrivi il tuo nome, cognome e indirizzo email a conference@face-to-faith.eu per ricevere il link a Zoom.
.:: SPEAKER ::.
• Paweł Sztarbowski – Teatr Powszechny (Polonia)
• Roy Chen – תיאטרון גשר Gesher Theatre (Israele)
• Felix Dornseifer e André Erlen – Sommerblut Kulturfestival (Germania)
• Stefano Tè e Caterina Gambetta – Teatro Dei Venti (Italia)
• Michal Lang – Divadlo pod Palmovkou (Repubblica Ceca)
• Bozhena Pelenska – Jam Factory Art Center (Ucraina)
• Elisa Itkonen e Johanna Tuukkanen – ANTI – Contemporary Art Festival (Finlandia)
• Renzo Francabandera (Italia), giornalista, critico e curatore dell'evento
…e l'intera comunità di #FacetoFaith
Per partecipare all'evento su Zoom è possibile iscriversi e ottenere il link inviando una mail all'indirizzo conference@face-to-faith.eu
I lavori si svolgeranno in lingua inglese.
Website: www.face-to-faith.eu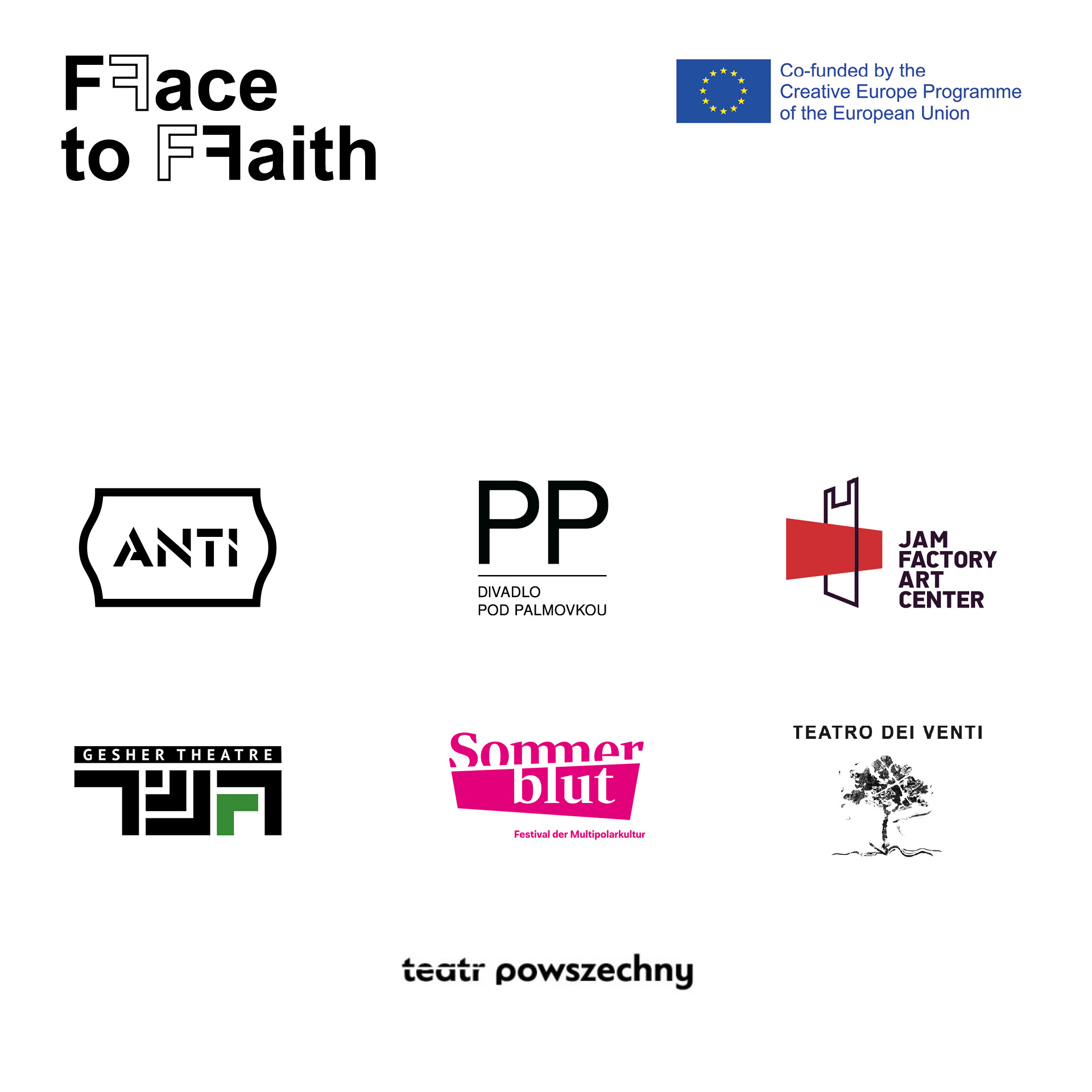 Il progetto è finanziato da Europa Creativa.
Posted by Teatro dei Venti / Posted on 26 Feb
Audience, Europa Creativa, Modena, Progetti Europei